"Educate a child, in a way that he may evolve, turning every dream into a reality, transcending barriers and building an all-new world of hope and positivity."
The true purpose of education is building individuals who can be an asset to the generation. We believe in holistic education for our children, encompassing academics, co-curricular activities, sports education and life-skills. Our endeavour is to strike a balance between state-of-the-art infrastructure and an internationally acceptable pedagogy. The greatest strength of DPS, Dehradun is the high-quality programmes and transparency in its system. Our well-groomed school's community consists of experienced teachers and supportive parents working together to make the school an ideal place for its students to learn, grow and become torchbearers for a better tomorrow.
Alvin Toffler once said, "The illiterate of the 21st century will not be those who cannot read or write but will be those who cannot learn, unlearn and then relearn." An important part of the mission of our new age education is not just developing learners' competence, but also giving the right values and attitude. To go ahead we need to provide 'out of the box' thinking climate in the classroom and stimulate creativity and develop problem-solving capability in each student.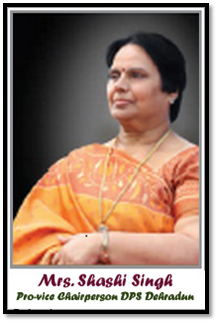 I strive to see your genesis culminate in unprecedented success. Success comes to those who are good human beings, at the same time those who are ready to work hard. You stepped into this great institution with fresh ideas, soaring aims, high hopes, and joyous aspirations. I ensure you that your ambitions will be accomplished through the able guidance of the highly skilled and experienced teachers. In return, the school seeks superior ethics, positive attitude and discipline.
I congratulate the diligent team led by the Principal, for giving a platform to students that reflects the talent, ambitions, aspirations and strengths of the young Dipsites.
Shashi Singh
Pro Vice Chairperson